Sweetie's

Pictures Page

These Maltese have been adopted. They are deeply adored and loved by their families and envied by all!
Born March 17, 2001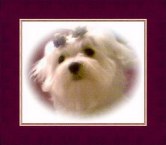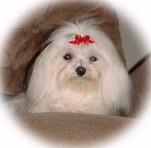 This is Lucy, she is a daughter of Daisy's. She lives here in Michigan, with a family who adores all of her 2.14pds of love. She is a St. Patrick's Day baby and is such a little doll! Her mother makes all of her bows too. Check out my link to her web site, where you can order bows for your special baby too!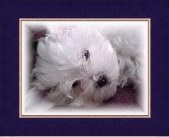 This is Abbey, she is the daughter of Dixie. She lives in Canada, and is a CKC/AKC registered show dog. She is doing well and moving up in the "show" world. Hope to see many ribbons and soon her CKC champion designation. Her family is proud of her and strives to help her succeed her goals and is much loved. She has a playmate too, Hershey, who is a Lhasa Apso....here is a picture of him....can you believe this?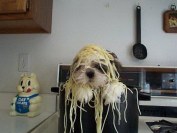 In Hot Water Again!
Photo Gallery